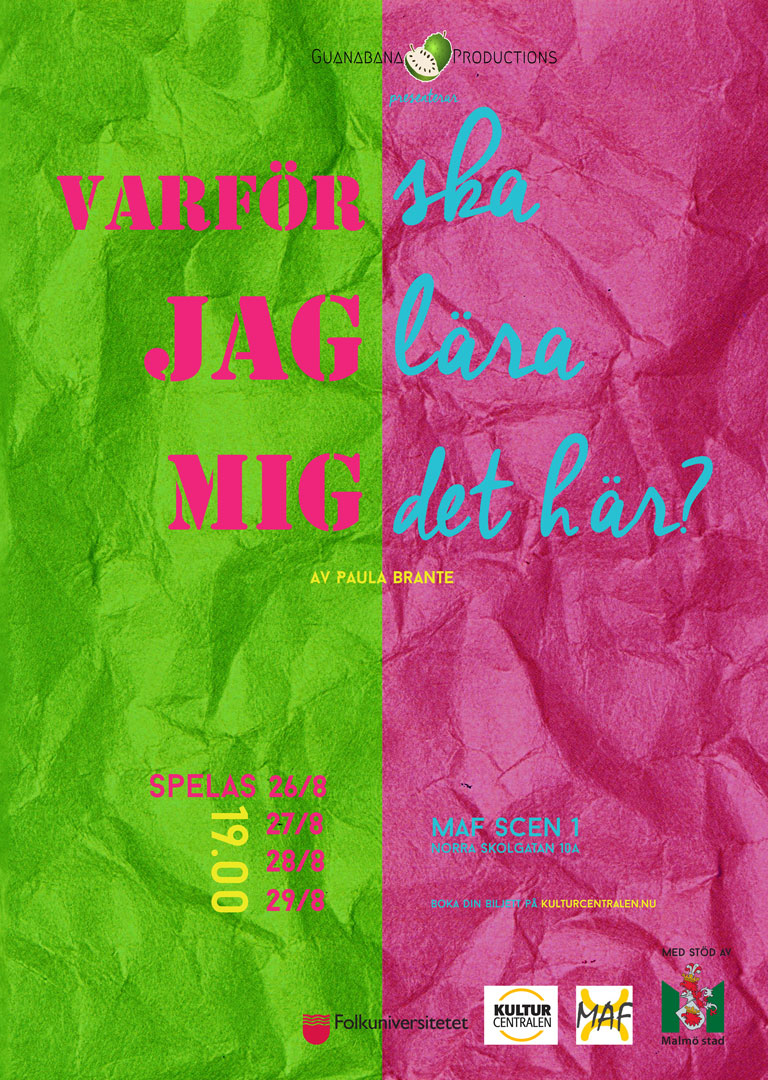 Varför ska jag lära mig det här?
by Paula Brante
Varför ska jag lära mig det här? (Why should I learn this?) written and directed by Paula Brante was Guanabana Productions' first play in Swedish. With lots of humour and insight the young ensemble interpreted themes like gender, identity, nurture and all the neon-coloured expressions that we use in our beige world.
The play follows Wilma, Niklas and Moa from kindergarten to mid-life crises and examines how expectations and norms affect, shape and direct their lives along different paths. With a humorous twist it puts you — the teenager, the adult, the parent, the audience — against the wall and asks the questions: What powers do you have to make a change in your own and other people's lives? And what do you choose do with that power?
The performance was very positively received by an audience of various ages. School performances have been requested from several schools and we have a sneaky suspicion that this was not the last we've seen of this play…
Director, producer: Paula brante
Producer: Emeli Nilsson
Costume, scenography, props: Sera Cederberg
Choreography: Tove Bergström
Lights, sound: Michelle Lindstedt
Graphical design: Nadine Lindholm
Music:
Michelle Lindstedt
August Wegeståhl
Robin Björklund
Cast:
Sara Bergström
Nellie Björklund
Linn Bylund
Harriet Leander
Premiere: August 26, 2015
This play was performed with support from: